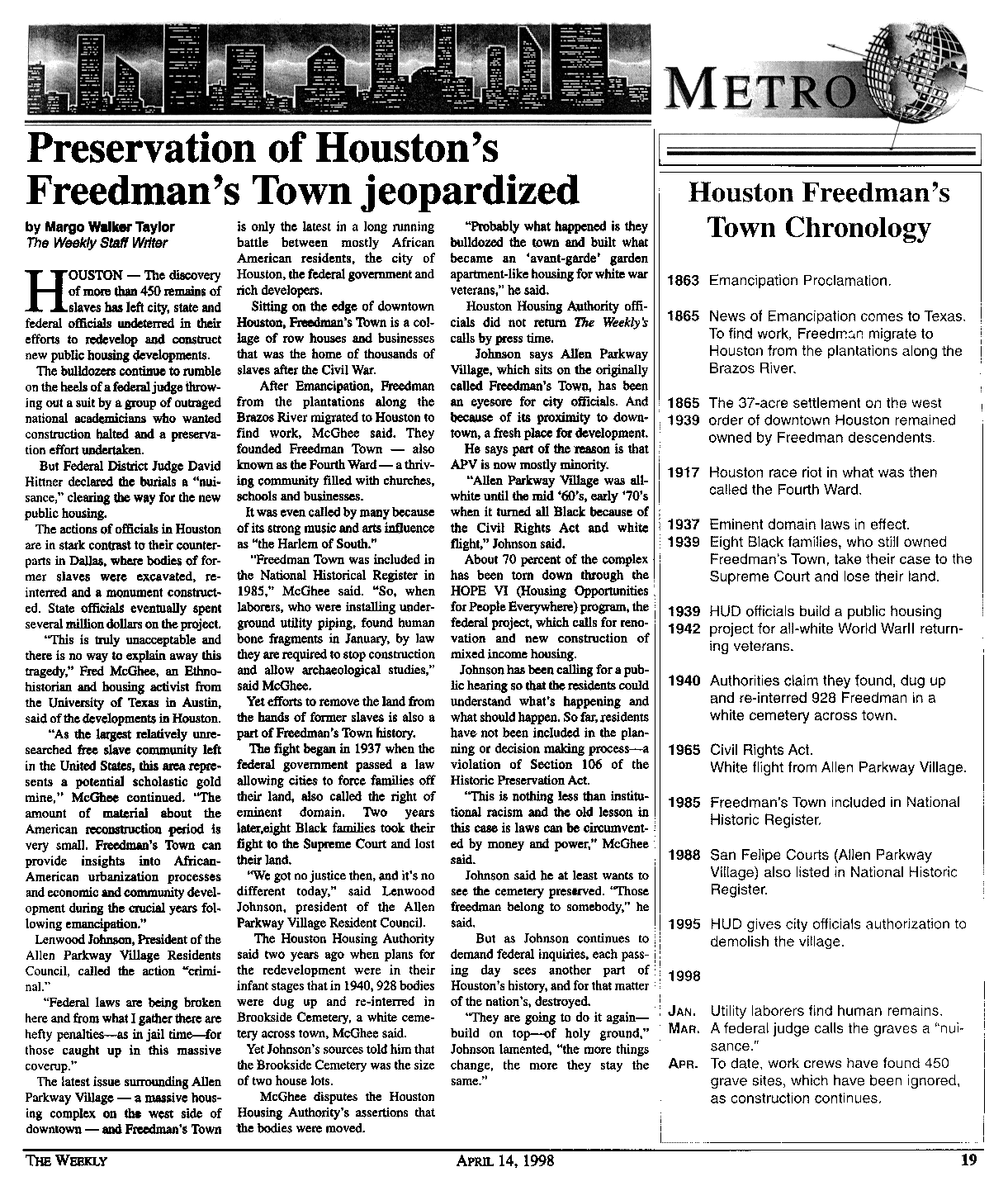 A Brief History of Freedmen's Town
Freedmen's Town - A brief history provided by Gladys Marie House of the Freedmen's Town Association, Inc. Updated by Emily Nghiem with input from Darrell Patterson and Lenwood Johnson.
To view news article and timeline, click on image to the left. To download the text of this Freedmen's Town brief, click here: FTAbrief.doc or FTAbrief.txt.
---
Immediately west of downtown Houston lies the city's oldest Black community. This community is commonly known as Fourth Ward, but its original name is Freedmen's Town, given by freed slaves who settled it.
Initially located where Allen Parkway Village now stands, Freedmen's Town was established immediately after the Civil War when many farmers gave or sold their truck farms and property to freed slaves. Freedmen's Town prospered during the turn of the century. Economic, community, and social development were at a peak until local government became threatened by the Black area's prosperity. Black businesses, homes, and churches soon became displaced in order to make way for "progress." Government buildings, such as City Hall, the Albert Thomas Convention Center, and the Music Hall and Coliseum have replaced that portion of Freedmen's Town whose boundaries extended east to Travis Street; west to Taft Street; north to Allen Parkway, and south to Sutton Street.
Wards were established in Houston in 1841. Although the "ward" system was officially discontinued in 1906, Houstonians continued to identify the city's various communities by those political subdivisions. By 1920, Freedmen's Town had grown to represent one-third of Houston's population.
In the 1920's , Freedmen's Town was Houston's "Harlem." The area was filled with many restaurants, jazz spots, and night clubs. These establishments were frequently visited by Houston's white citizens as well. West Dallas was the community's main commercial strip.
In 1929, a survey conducted by the National Urban League revealed that city services were not being extended to Houston's Black citizens. In addition, a pattern of segregation was preventing Freedmen's Town residents from moving to better jobs. In that same year the official report of the City Planning Commission recommended strict segregational zoning of Blacks into the Second, Fourth, and Fifth Wards. While this proposal was not accepted, it was implemented on a de facto basis through deed and housing restrictions. With the coming of integration, many Freedmen's Town residents began to move toward Texas Southern University, in the Third Ward, and other areas of the city, such as Studewood, South Park, Riverside Terrace, Kashmere Gardens, and Acres Homes.
There was much construction in the late 1930's against the wishes of Blacks here, which continued to severe this historical neighborhood, divided nearly at midpoint by the addition of the Gulf Freeway. In the early 1940's, more Black land and business owners were displaced to make way for San Felipe Courts (now APV), the largest public housing project in Houston. To appease possible civil unrest, Blacks were assured by political movers and shakers that they would be allowed to partake in the new housing once construction was complete. However, in order to justify funding during World War II, the project was designated as part of the war effort to serve military families. A brick wall was erected instead to separate the Courts from the remaining Freedmen's Town. Only whites were allowed to be housed in the Courts.
It was not until 1968 that the first Blacks were permitted to reside there. Today, the Courts are Allen Parkway Village (APV). The Department of Housing and Urban Development (HUD) allotted $10 million to rehabilitate APV in 1979, the local government chose to try to sell the project to private interests, and used $1.5 million of this money elsewhere. A HUD investigation in 1987 disclosed gross mismanagement of the said monies. This history of misspent public funding continued with the expenditure of $451,000 to rehabilitate units at APV that were kept boarded up while the waiting list of homeless families rose from 6,000 to over 8,000; the decision to demolish instead of to restore well-built housing units at an additional cost of at least $50 million to taxpayers; and, even more recently, the decision under former Mayor Bob Lanier's administration to allow approximately $4 million in city funds, originally granted to build 350 units of low-income housing, to be used toward only 150 units and to let private developers keep the rest.
While outside nonprofit groups, such as the Houston Renaissance and the Housing Authority of the City of Houston, have obtained public funds not equally offered to locally-based nonprofits, such as the Fourth Ward Health and Educational Center for Youth, the Freedmen's Town Association, and the Fourth Ward Community Coalition, the battle to preserve and to restore APV has been led by the Resident Council of Allen Parkway Village (RCAPV), founders of the original Allen Parkway Community Campus plan used as a model throughout the nation. Unfortunately the Housing Authority of the City of Houston has pursued other plans for the site, including the forcible eviction of residents, demolition of most of the buildings they voted to preserve, and now the contested disposal of historical burial remains recently uncovered at APV.
The struggle for justice by community residents and leadership is only one facet of Freedmen's Town rich and colorful past, which has left many significant historical landmarks and features. Handlaid brick streets, constructed by Rev. Jeremiah and his congregation over half a century ago, still run through the area. Houston's first cemetery, Founder's Cemetery at Valentine and West Dallas, contains the graves of military men who fought in the Civil War, as well as the historical remains of John and Augustus Allen, the founders of Houston. Immediately adjacent to Founder's Cemetery stands the "Hanging Tree" where several Blacks were hanged. During World War I, Camp Logan, located just west of Freedmen's Town, was the site of the worst race war in the city's history -- the "Camp Logan War" in August of 1917.
Behind Founder's Cemetery lies Congregation Beth Israel, the oldest Jewish cemetery in Houston, which is beautifully maintained to this day. Among other historical churches in the area, Antioch Missionary Baptist Church built in 1866 continues to be a major focal point of Freedmen's Town, though it has been relocated from its original site on "Baptist Hill" where the Music Hall and Coliseum now stand. Rev. John Jack Yates, the first Black pastor of Antioch, was a dynamic and influential leader known for his deep commitment to the education of Black youngsters. He often used his personal finances to send Freedmen's Town children to school. Today, Jack Yates High School in the Third Ward stands in his honor.
Of the houses that Rev. Yates built, only the one he built for his brother remains at 1314 Andrews. Yates' historical homestead at 1318 Andrews, believed to be the oldest two-story home built by an African American owner, was moved to Sam Houston Park (ironically, a park commemorating a slave-owner), while the house at 1204 Wilson was demolished by the City of Houston in 1986. Further plans promoted under the name of "Founders Park" so threatened the historical preservation of Freedmen's Town that outraged residents and leadership organized opposition through the Freedmen's Town Neighborhood Association to defeat the plans of outside private interests. However, the constant encroachment on Freedmen's Town and Fourth Ward continues to date with the plans of the Houston Renaissance and private developers including Perry Homes -- the same company responsible for demolishing a complex on Castle Court that once housed 150 low-income residences in order to build luxury accommodations for 3.
Although Freedmen's Town is a nationally registered historical site, and the largest intact freed slave settlement left in the entire nation, its official designation protects only 40 of the 80 blocks or more of the remaining Freedmen's Town area. In order to protect the greater Freedmen's Town community, grassroots efforts are now being made through the Fourth Ward Health Educational Center for Youth, Inc., to promote the Youth Master Plan for Fourth Ward, in partnership with other community organizations. Two of these include the Resident Council of Allen Parkway Village, which works to educate the public on issues of federal housing and historical preservation laws, and the Freedmen's Town Association, founded for the purpose of assuring the active and effective participation of current residents in planning the preservation, restoration, and development of the area, especially in the area of business and private home ownership.
The leaders and volunteers of each organization share common objectives of securing safe and affordable housing, greater economic independence and human development, and access to health and community services as well as to educational, job, and leadership training, among their other goals. To honor and to further cumulative efforts to save Freedmen's Town, help is needed to start a "Habitat for History" chapter, integrating student internships, fellowships, and educational grants with work opportunities in the areas of housing reconstruction, legal and historical research, and campus and museum development.
Please join us in preserving and restoring Freedmen's Town as a national African American reparations project. For more information, please see also:
---