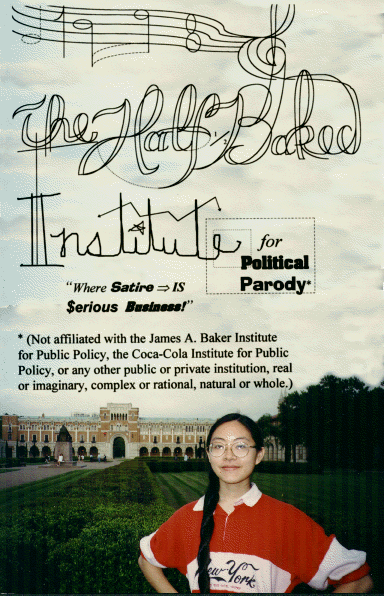 Political Song Parodies (all midi files have been removed from this site - see note): Spiritual Humour and Movie Parodies: Political Satire on Adult Humor (see "Terms of Abuse" and "Private Parts Policy"):
JULIET & ROMEO: A Play on Life in America
Puss-of-the-Month Calendar Cats (in progress)
Like Angels in Heaven: email editor for satire inspired by Thomas Jefferson's "Head & Heart" letter

(for those of you who don't care for political humor, click here for a few nonpolitical puns)

-- COMING SOON --
More political criticisms
and witticisms from:
BOB HRNCIR
JANICE TERRY
or any other humorists out there
with silly songs they want to share!
For an award-winning collection of wisdom, wisecracks, and other words to laugh by, please visit The Humor and Life, in Particular website, by Monthly Contest Editor M.C. McCASKEY.
Send your song parodies,
puns, poems, musings, or
political cartoons to:
The Half-Baked Institute
for Political Parody
P.O. Box 981101
Houston, TX 77098*
*(include SASE for entries to be returned)
emailus@ev1.net
---